March 20, 2023 | 09.00-14.00 | Virchowweg 6 Charité, Campus Mitte (CCM) Charitéplatz 1, 10117 Berlin
Journal club meets Berlin-Bochum PhDs! - dissecting a special issue of Trends in Cognitive Science on the future of memory

Mar 9, 2022 | ZOOM & Gather.town
Lightning talks, collaboration meetings and a panel discussion on career options

Date | Last Friday of the month during the semester
Please contact Iryna Schommartz for further information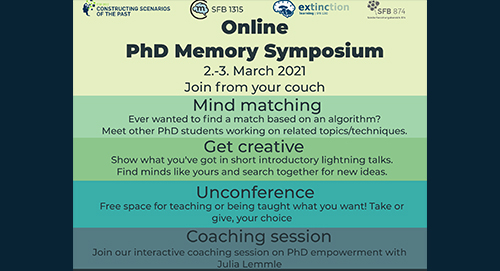 Two days getting acquainted, matching interests, sharing expertise, a coaching session and more!

Dear interested high school students,
please write us if you would like to visit one of our labs or if you have questions for our scientists.
Dear SFB1315 members,
please send us news of your outreach activities to share with the public!