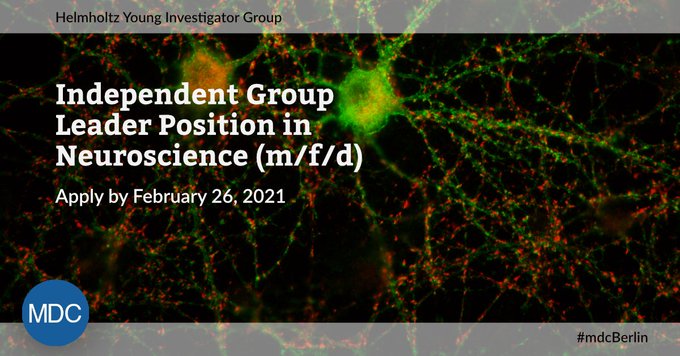 Positions
There are currently no open positions in the CRC1315 but here are a few openings advertised by our members:
Source, James Poulet, deadline February 28, 2021
Independent Group Leader in Neuroscience (m/f/d)
The tweet, and link to the job advert
---
Source, Jessica Levin (LIN), deadline March 1, 2021
The Department in Department Functional Architecture of Memory at the Leibniz Institute for Neurobiology in Magdeburg (Germany) headed by Professor Sauvage is looking for a highly motivated:
PhD Student with Knowledge in Molecular Neurosciences (3‐year fixed‐term position)
and a highly motivated:
Post-doctoral Research Scientist with Expertise in Molecular Neurosciences (3‐year fixed‐term position)
---
Source, Jiyun Shin:
December 3, 2020 | Department of Neurology at NYU Langone
Adeen Fliner lab in NYU has two postdoctoral positions for language perception and speech.
Human Intracranial PhysiologyTwo post-doctoral positions are available in the Department of Neurology at NYU Langone to conduct intracranial recording and stimulation research (ECoG) that involves studying the perception and production of speech. Postdocs have the opportunity to develop cognitive paradigms, analytical approaches, and conduct experiments with patients undergoing neurosurgery, including acquiring neural signals directly from the cortex (surface, depth, micro).Postdocs benefit from the rich resources of NYU Grossman School of Medicine's neuroscience community and collaborate closely with a team of leading neuroscientists and clinicians. An MD or PhD in a related field, such as neuroscience, psychology, or biomedical engineering, is required. To apply, send your CV to Adeen Flinker, PhD, at adeen.flinker@nyulangone.org.